From Rick Martin, CNN
September 18, 2010 8:58 a.m. EDT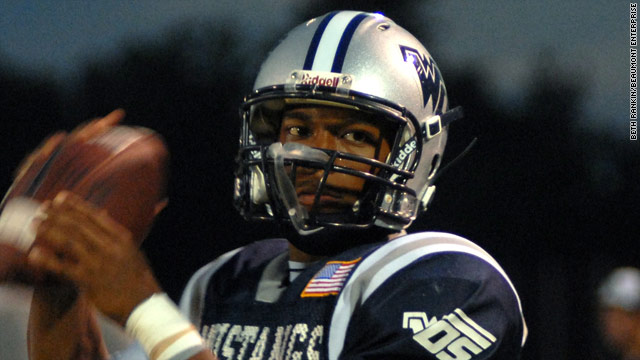 Read more on this story from CNN affiliate KBMT.
(CNN) -- A Texas high school football quarterback died Friday after collapsing during a football game, a hospital official said.
Reginald Garrett was rushed to Baptist Orange Hospital of Southeast Texas, but he did not survive, said Susan Courtney, a hospital spokeswoman.
Garrett, a senior at West Orange Stark High School, collapsed shortly after throwing his second touchdown of the night, CNN affiliate KBMT reported.
Courtney said Garrett wasn't just a football player, but "the star football player" and a straight-A student.
Cornel Thompson, one of the coaches of the
football
team, told KBMT players were devastated.
"I've coached this game for 40 years and football really isn't important, is it, when something like this happens?" he said. "You talk about a great kid, friend and teammate. These kids all followed him, you know. It's a shocker."
Garrett had a history of seizures and coaches told KBMT they believe he may have had a seizure Friday night.
Fans poured into the hospital's lobby and waiting room, wailing and falling to their knees when they learned of Garrett's death, Courtney said.
"Most of the community was here at the hospital," she said. "There was hundreds of people in the parking lot, there was people in the waiting room, cheerleaders, drill team, band members, community support by the hundreds."
CNN's Ninette Sosa contributed to this report.